Moncton HVAC-R Services
Heating, Ventilation, Air Conditioning & Refrigeration Services in the Atlantic Provinces
Our Moncton location offers professional heating, ventilation, air conditioning, and refrigeration services across New Brunswick. We have developed an HVAC-R maintenance program that is proven to reduce your company's operating costs.
Coral Canada Wide Ltd. has been the leading national service provider of HVAC-R, plumbing, and pipefitting for restaurants, supermarkets, warehouses and more since 1992. If you have been looking for a local Moncton HVAC-R company, Coral has the expertise and team to assist your business.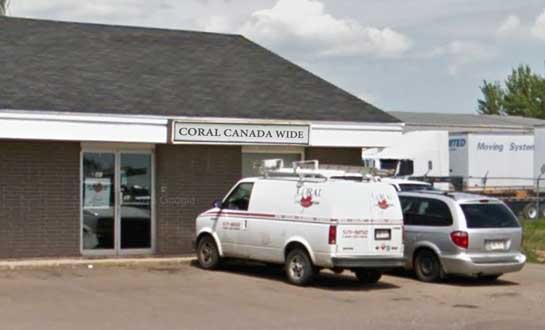 About Our Moncton Location
Coral believes in providing Canadians with an exceptional choice while maintaining consistency across the country that our clients know they can rely on. Whether you work with our Moncton location or any of our other branches, you will always get a team of certified and qualified technicians.
One way we provide exceptional service is by ensuring an excellent fit and finish with all of our HVAC-R installations to guarantee client satisfaction. This, combined with a tailored maintenance program, will help your equipment have many years of uninterrupted service.
With 11 locations nationwide, we offer our services throughout the country, even if we don't have a physical branch there. If you want to open a national chain of supermarkets, restaurants, or any other business, we can create a cookie-cutter approach to your HVAC-R system. The result is a streamlined experience for our clients.
Coral believes in working with the best HVAC-R technicians in the country. Our service teams and several of our technicians possess multiple trade certifications, ranging from HVAC and refrigeration to plumbing, pipefitting, gas, and electrical.
Coral's technical expertise has been recognized on a national level by manufacturers. In fact, many exclusively request that we perform start-up and commissioning services on their heating, ventilation, air conditioning, and refrigeration systems (HVAC-R) for their key clients. Give us a call today to learn more about how we can help with your HVAC-R, Plumbing & Pipefitting needs – 506-387-4470.
Coral's Moncton HVAC-R services include working with new construction, commissioning equipment, making repairs as necessary and retrofitting. Through our maintenance program, our technicians can accurately track wear and tear and replace worn components before they fail.
Our Commercial & Industrial Services include:
Predictive & Preventative Maintenance
HVAC-R Installation
HVAC-R Repair & Replacement
Plumbing & Pipefitting
Life Cycle Analysis
Electrical & Generator Maintenance
Energy Analysis
Indoor Air Quality
Air Balancing
Air Conditioning
Tenant Improvements
Sheet Metal Ductwork
Humidification / Dehumidification
Water Treatment
Big Box Retail
Supermarkets
Restaurants
Distribution Centres
Recreational Facilities
Industrial Buildings
Service Stations
Financial Institutions
Executive Buildings
Government Buildings
Commercial Building
Military Installations